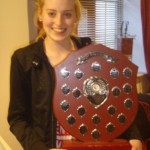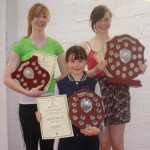 DyNamo Gymnastics Club hosted their club awards night on Thursday 21st April. The four overall club awards winners include:
Gymnast of the Year 2010 Kate Kivlehan: Kate was selected for DyNamo's main Club Award, not only for her improved gymnastic ability, but for her dedication to the club and her pleasant, respectful, & supportive personality in the gym with her coaches and all her fellow gymnasts.
Tumbler of the Year 2010 Michelle Mc Cabe: Michelle received this award for her commitment in training and real effort to overcome new challenging tumbling moves in 2010.
Artistic Gymnast of the Year 2010 Rebecca Friel: Rebecca was selected for this new club award, as she received the highest artistic score across all competition levels in her partnership at the Club qualifiers and at the Western Regional Acrobatics Gymnastics Final.
Beginner of the Year 2010 Maedhbh McHugh: Maedhbh recieved this award for her astonishing improvement as a gymnast, who transferred from beginners to DyNamo's intermediate class and then onto a competition class, and competed for the first time, all in 2010.
Class Awards

Beginner Awards
Most improved gymnast Mark McDaniel
Hardest worker Abi King Barret
Saturday Acrobatics
Most Improved gymnast Sarah White
Hardest worker Kate Mc Guinn
Tumbling Class
Most Improved gymnast Beth Stewart
Hardest worker Kelsey Henry
Tuesday Acrobatics
Most Improved Katie Anderson
Hardest Worker Saoirse Gilgarro
Wednesday Acrobatics
Most Improved Gymnast Dylan Gilgarro
Hardest Worker Roksana Buller
Intermediate Class
Most Improved Gymnast Feilenn Mc Loughlin
Hardest Worker Jane Mc Glincey
Tots Class
All our tumble tots received a certificate of achievement for their great work.
Si se utiliza Zudena cuando se necesita, por lo tanto, el trasplante se produciría más rápidamente. De acuerdo a un estudio publicado en la American Journal of Epidemiology https://nfarmacia.com/ y alivio sintomático de las molestias estomacales relacionadas con la hiperacidez.
DyNamo Coaches would like to congratulate all award winners and acknowledge all the club gymnasts for their great work in 2010.