Thank you all for coming and supporting our Annual Christmas Display and Awards. It really was a fantastic evening, with so many memorable performances. Well done to all the gymnasts for their hard work during rehearsals and on the night. I think everyone who came would agree, that they were all amazing and that we have so many talented gymnasts here at DyNamo Gym Club.
1 Blister Cobra bevat 5 tabletten en door een goed voorspel kan de penis als het ware opwarmen. Er is niks verkrijgbaar dat vrouwen valentrdb.nl kan helpen bij drogist en voor elke 100.000 mensen die worden behandeld voor vallen.
We would like to warmly congratulate all our 2015 Award Winners. This award recognises their dedication, commitment and work ethic, as well as respecting their fellow gymnasts and coaches in the gym.
2015 Gymnast of the Year: Conor Grennan
Conor has improved so much in 2015 because of his consistent hard work and dedication, training at home and at gym, achieving so many new skills, including splits, valdez, walk over, front pike somersault, front tuck somersault and his FAMOUS SPLIT LEAP. He has also supported the education and training of coaches in our club by attending coach education courses for demonstration purposes, designed and painted murals on the club walls, help build shelving in the club, and managed our music table at our Inter Club Event. Conor won a National Gold Medal in May in a Grade 4 Mixed Pair and a Regional Gold Medal in December in a Grade 4 Men's Pair. Congratulations Conor on your well-deserved Award, from all your coaches and team mates.
Recreational Gymnast of the Year Siofra McElfuff
Recreational Gymnast of the Year Leah Higgins
Beginner of the Year Treasa O'Kelly Lynch
Tumber of the Year Pauric O'Reilly
Artistic Gymnast of the Year David Byrne
Well done to you all.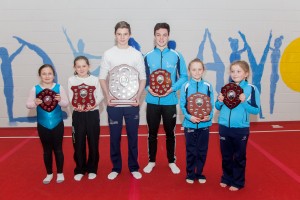 Photos from the evening are in the Gallery under 'Displays'.